Yesterday, I didn´t have enough time to make Black Forest for my friend birthday. I searched another cake which is quite simple and not too much decoration. After blog walking, I decided to use
Shinta´s recipe
with a bit modification as usual :). Although my cake decoration doesn´t look neatly, the cake is yuuuummmmy. Thank you
shinta
!
ingredients:
source:
Shinta´s Little Kitchen
- modified by: me
6 egg yolks
4 white eggs
125 g sugar
125 g all purpose flour
25 g corn flour/Maizena
2 teaspoons backing powder
100 g butter, melted
50 ml orange juice ( juice of one mandarin orange)
cream: 200 g schlagsahne (whipped cream), 1 sachet sahnesteif, 300 g mascarpone italiano, 4 tablespoons caster sugar
for garnish: 50 g shredded cheese, 1 can mandarin orange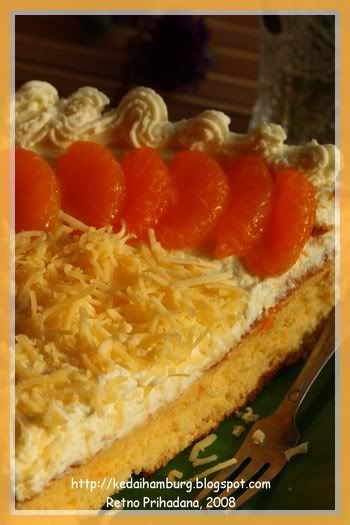 directions:
beat eggs and sugar on high speed mixer until mixture is thick and creamy. Sift dry ingredients, with spatula or mixer, gently fold dry ingredients into egg mixture until all combined. Pour mixture evently into well-greased deep 26 cm round cake tin. Bake in preheat oven 180°C about 25 minutes. When the cake is completely cold, cover with whipped cream. Spread top with shredded cheese
.
f
or cream:
beat schlagsahne (whipped cream), sahnesteif, caster sugar until creamy and sugar is dissolved. Add marcarpone, continue to beat until mix well.