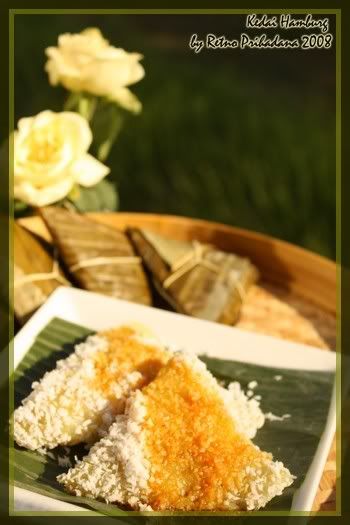 Lupis, one of traditional snacks in Indonesia, reminds me to my mother in law. She often buys Lupis, Getuk in a little food stall of Pasar Cihapit, Bandung.
Ingredients: Makes about 15
500 g glutinous rice
1/2 tsp salt
banana leaves
shredded coconut meat/kokosraspel
1 tbsp air kapur sirih/slaked lime water/lime stone paste (omitted )
sauce/syrup

: 500 g gula jawa/coconut sugar, 2 pandan leaves, 200 ml water

directions
:
soak glutinous rice in water for about 1-2 hours, then drain the excess water. Add salt. Fold banana leaf into a triangle shape and add glutinous rice firmly or you can wrap the glutinous rice with banana leaves like lontong/roll rice. Tie with cotton yarn. Cook them with water in a pressure cooker for about 1 hour or you can cook it in a large saucepan about 2-3 hours. Serve Lupis with grated coconut meat and Gula Jawa syrup.