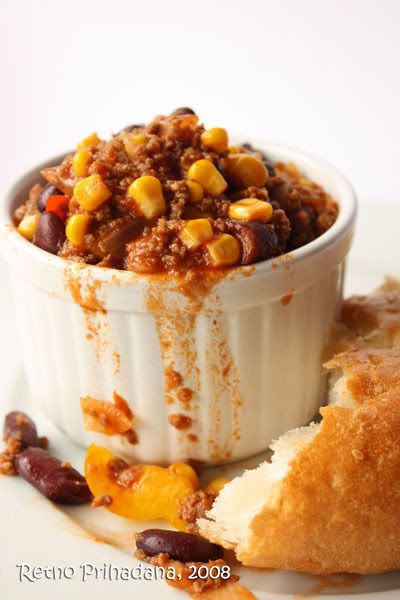 Chili con Carne, which means peppers with meat, is the official dish of the U.S state of Texas (source:
Wikipedia
). Wacthing a German TV Program ´Wissenshunger´(hunger for knowledge), a show about food and other topics, inspired me to try this dish.
Ingredients:
500 g ground beef

1 red onion, finely sliced

1 onion, finely sliced

2 garlic cloves, crushed
1 paprika/yellow bell pepper, sliced

5 Bird´s eye chillies (reduce amount of chillies if you don´t like it´s too hot)
500 g tomato sauce or tomato puree

1 can (400 g) red kidney beans, rinsed and drained

1 can (300 g) sweetcorns
1-2 tsp fresh thyme
,
rosmarin (I skip this)

5 tablespoons olive oil or cooking oil
directions
: In a large frying pan, saute garlics and onion in olive oil or cooking oil. Add minced beef, stir and cook until browned. Pour into tomato sauce or tomato puree then chillies and thyme. Turn down the heat. Keep them simmer on a low heat and stir for about 15 minutes or more, add a little water (150 ml) if needed to keep from sticking. Add paprika, red kidney beans and sweetcorns, stir again for 2 minutes.