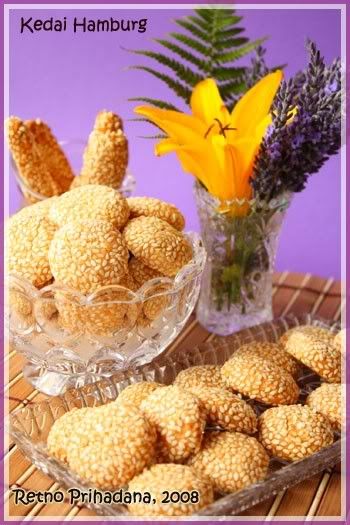 KBB (Indonesian Baking Club) challenge this month is quite simple and easy to make
.
The recipe looks like Kaastengels/Cheese shortbread cookies.
225g grated mature cheese
125g butter
125g flour
cayenne pepper to taste (substituted with chili powder)
sesame seeds
With finger tips, mix together cheese, butter, flour and cayenne pepper until mixture forms a mass. Butter a biscuit tray. Make small balls of the dough. Roll some in sesame seeds and press on tray, placing them fairly far apart as they will spread while cooking. (We have pressed walnuts on some of the biscuits and, for a colour contrast, some chopped pistachio nuts). Bake biscuits in pre-heated oven 180C for 15 minutes. Store in an airtight container.