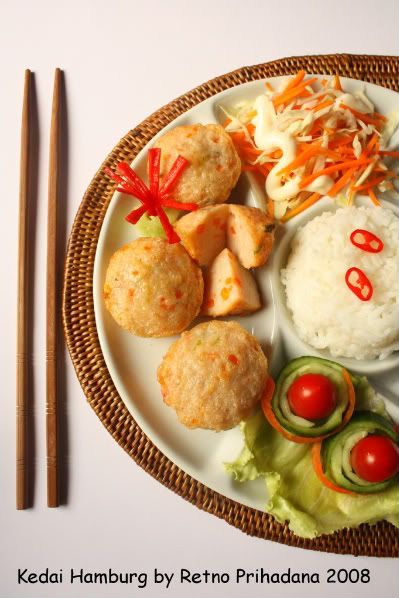 Thema of KBB#7 (
Indon
esian Baking Club)
: Warna Warni-Colourful to celebrate KBB´s 1st annivers
ary. W
ith this special thema, the hosts of KBB
(mbak Arfi and Dewi Oni) ask us to join cooking, baking and photography competions. Actually, I´m still not in the mood to cook after 1 month summer holiday without cooking :). Now, back to the real world. I really have to push my self to cook something so that I can participate KBB´s first birthday. Happy Birthday KBB !
ingredients:Makes about 35
600 g chicken breast, minced
400 g peeled shrimps, minced
3 clove garlics, crushed
1 teaspoon ground white pepper
1 teaspoon sesame oil
1 carrot, cut in small dices
1 spring onion, chopped
100 g tapioca flour, dissolved with 6 tablespoons water
1 teaspoon sugar
1 egg, salt to taste
cooking oil for frying
P.S

: If you don´t want to fry chicken shrimp balls, you still can serve
them as soup. Serve hot with Bak Coy and chopped spring onion in chicken broth..hmmmmm!