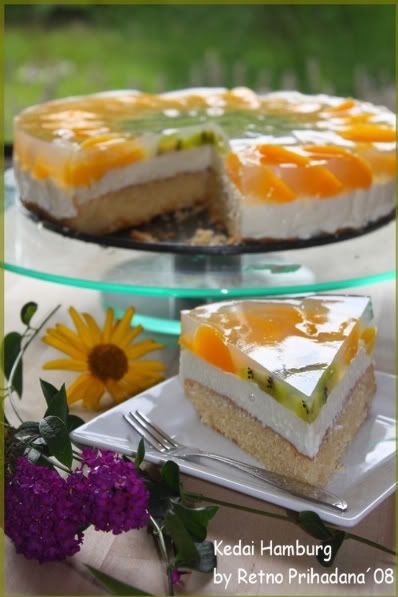 My second entry (Baking) for

KBB

(Indonesian Baking Club)´s 1st birthday with the thema: Warna-War
ni - Colourful. I use

spiegeleikuchen recipe

(see the recipe in Bahasa Indonesia

here

) with a bi
t modification. I also submit this entry for Food Photography contest.
ingredients:
first layer (Cake)
: 3 eggs, 125 g all purpose flour, 125 g butter, 125 g sugar, 1 tablespoon baking powder

second layer (sour cream)
: 400 g sour cream/schmand, 500 ml milk, 40 g maizena/corn flour/speise starke, 2 tablespoons sugar, 1 tablespoon vanilie sugar

third layer(fruit and agar-agar)
: 1 can Pfirs
i
che/Peach (drain the water and keep it about 250 ml), 1 kiwi, 1 sachet agar-agar, 300 ml apple juice
Whooooaaa...look at that spills
"bocorrr...biasanya aku pake tortenguss yang langsung mengental, kali ini coba-coba pake agar-agar, untung masih ada yang terselamatkan dengan menuangkan agar-agar sesendok demi sesendok :)"
directions:
first layer (cake)

:Put eggs and sugar into a bowl of electric mixer, beat on high speed for about 10 minutes until mixture thick and creamy. Add butter, continue beat
ing until just combined. Sift dry ingredients (flour and baking powder) over the mixture. Stir with spatula or beat with low speed until all ingredients are thoroughly combined. P
reheat oven to 180 °C. Pour mixture into a greased deep 26 cm round cake tin; line base with baking paper. Bake in oven for about 20 minutes. Meanwhile, make second layer.
second layer (sour cream)

: combine sugar, vanilie and maizena in sauce pan. Add milk, blend until smooth, stir over heat until mixture boils and thickens. Remove from heat, stir in schmand/sour cream. Spread sour cream mixture evenly onto cake. Bake again for about 10 minutes. Let it cool.
third layer (fruit and agar-agar)

: decorate with peach and kiwi. Combine agar-agar and juice, stir over heat until boiling. Pour into fruit, spoon by spoon.