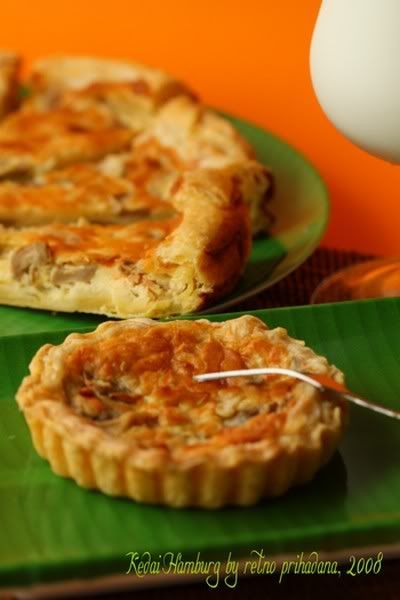 I´m still not in the mood to cook a
com
plicated recipe. Than
ks to

yenny
for sharing this recipe
which is simple, easy and lecker :)

ingredients:

1 packet frozen puff pastry/blätterteig, defrosted
3 onions, finely chopped
2 clove garlics, crushed
3 eggs
200 g creme fraiche
1 can (280 g) mushrooms/champignons, drained excess water
1 teaspoon sugar
salt and pepper
100 g grated cheese
directions
:
place the pastry and cut in circle on a round greased baking tray about 22 cm in diameter or you can use mini pie moulds.
To make the filling, cook chopped onions and garlics with 3 tablespoon cooking oil until browned. Beat the eggs and creme fraiche together and season well. Stir in grated cheese, sauted onions and garlics. Pour into the baking tray. Cook in moderately hot oven 180°C for about 45 minutes.