When I was a kid, I love Candil and

Kolak Pisang (sweet plaintains in coconut milk)

for Iftar in Ramadhan-a month of obliga
tory daily fasting in Islam. In Ramadhan, our meal habits get different, without intake start from dawn and end with sunset.
Dr. Haffejee suggest that in view of long hours fasting we should comsump slow digesting foods including fibre containing foods rather than fast digesting foods ( read more

here

).
In my home country, I used to buy Candil for Iftar as an appetizer or dessert. Since I´ve been here, I try to make by my own. Sweet Potato or Ubi Jalar is a good dietary fibre, source of vitamin A, B6, C and minerals. It can be prepared in variety of delicious dishes, as a main dish or as a dessert, cooked savoury or sweet. I prefer the sweet one :).
This is my entry for

Joy from Fasting to Feasting

hosted by
Kitchenflavours´ Lubna Karim

and

Yasmeen

.
ingredients
:
for sweet potato balls
:

500 g

sweet potato/ubi jalar
,
100 g glutinuos flour
,
100 g tapioca flour
for syrup:
150 g coconut sugar/gula merah
,
400 ml water
,
200 ml coconut milk,
3 cm cinnamon
directions
: Boil sweet potato into enough boiling water. Cook until tender then set aside. Peel and mash potato. Blend the puree with both flour until fairly smooth. Ball puree into small balls.
Cook the balls with about 1 liter water until floating to the surface, remove from the heat then drain the water. Meanwhile, cook 400 ml water with coconut sugar and
cinnamon. Add
cooked sweet potato balls into coconut sugar syrup
, bring it to boil then turn the heat down. Pour into coconut milk.

Last week, I brought these snacks for iftar at Indonesian Consulate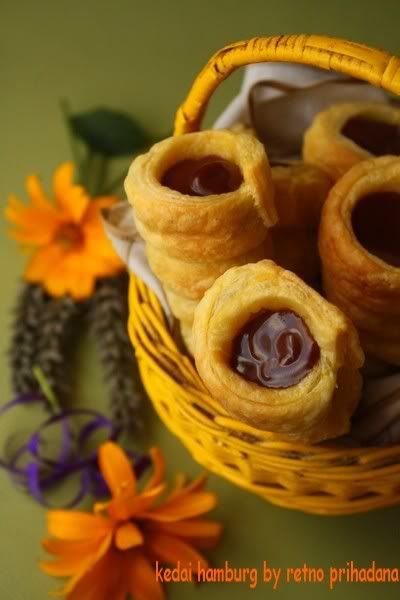 Choco pudding in horn puff pastry
ingredients:
1 sachet Schokoladen Pudding/Chocolate Pudding
500 ml milk, 6 tablespoons sugar
1 packet of frozen puff pastry