Kue salju (Snow white Cookies)

ingredients:

500 g all purpose flour,
3 tablespoons maizena/corn flour/speise starke

350 g margarine "Blueband"

1 teaspoon vanilie

for garnish: 150 g caster sugar
directions
: Pour flour into large pan, cook and stir continuosly with a wooden spoon for about 4 or 5 minutes. Set aside. Whisk margarine, vanilie and maizena. Gradually, add flour. Knead mixture, roll out to 4 mm thickness. Cut out pastry with shaped cutter. Bake in moderate 180°C oven about 20 minutes. Sprinkle cookies with caster sugar.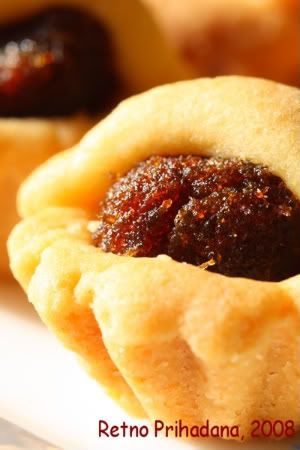 I posted Pineapple tarts with another recipe

here

and homemade Pineapple Jam

here

.
When I was on holiday in Bandung, my sister in Law:

Rina

made pineapple Jam for me. Thanks a lot
Rina
, the taste of Pineapple from Indonesia is more sweet than I bought here.
ingredients:
4 egg yolks
,
250 g margarine,
250 g butter

800 g all purpose flour,
200 g caster sugar

P.S: Siti Azma-

Food-Research

, thank you for your order. Enjoy the Pineapple tarts/nastar !