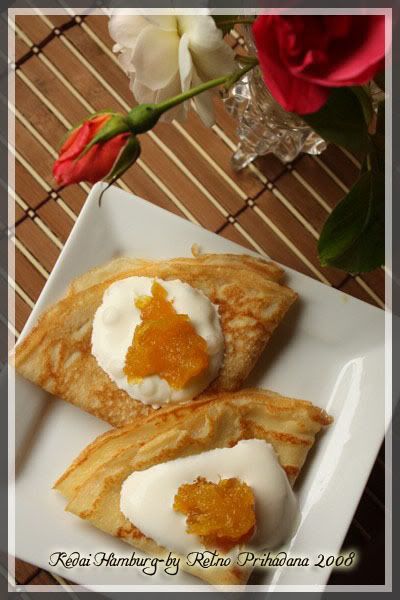 My kids´quick breakfast is almost similar everyday such us toast bread with salami or jam, sometimes with cream cheese, sliced tomatoes and sliced cucumber, scrumbled eggs. For weekend: Fried rice and instant noodles :). Inspired by Elsye, I think .....why don´t make something different for breakfast. I decided to make pancakes as my entry for breakfast recipe remix event hosted by Robin & Daniele.
Ingredients:

125 g self raising flour,
300 ml milk,
50 g butter- me
lted
,
2 eggs
,
2
tbsp
sugar,
1
/2 tsp salt
Make
s

about 9 pancakes
Homemade Pineapple Jam recipe

here
directions

: Sift flour into a bowl. Add salt, sugar, eggs and melted butter. Mix until batter free of all lumps. Pour into milk, gradually, stir until it´s just blend together, sift the batter if necessary. Heat a frying pan or skillet with diameter about 22 cm over medium heat. Add a little bit oil to the frying pan or skillet. Cook until brown on both sides.